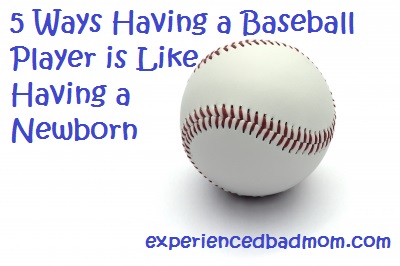 It's baseball season in our house, which means a never-ending cycle of practices and games. As I was piling my family and the requisite chairs, snacks, hats, and overall bag of crap into my car to go to yet another baseball game, I realized that having a baseball player in the family is a lot like having a newborn.
So today I'm sharing the 5 ways that having a baseball player is like having a newborn!
1. Both can wear white outfits that NEVER. COME. CLEAN.
White onesies or white baseball pants. Both are disasters.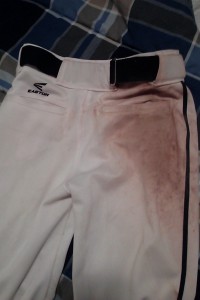 2. Both wear outfits that they can't dress themselves in.
Well, of course a newborn can't dress himself! But who would have thought that a baseball belt would be virtually impossible for a 9-year-old OR his parents to thred through his home, away, or practice baseball pants every other day.
3. Crying.
It can both pull at your heart strings and drive you nuts when your newborn cries. Same thing when your baseball player strikes out. And, just as you took comfort in the fact that all newborns cry, so too can you take comfort in the fact that at some point all 9-year-old baseball players cry.
4. A ginormous bag of stuff you have to lug everywhere.
The newborn bag I carried contained diapers, wipes, a spare change of clothes, toys, blanket, medicine (just in case), etc.
The baseball bag I carry contains snacks, sunblock, eye black, toys for younger siblings, blankets, hats, an extra uniform (in case you read the team email incorrectly and dressed him in the wrong uniform), medicine (just in case), etc. Only now all that stuff is way bigger in size than when he was a newborn! And I didn't even mention that my baseball player carries his own bag with his helmet, bat, etc.
5. Everyone has an opinion.
When you had a newborn, you'd hear, "Is he on a schedule?," "Hold him like this", "Haven't you started him on solids?", etc.
When you have a baseball player, you hear, "He should point his elbow like this," "He should just follow through with his hips,", "Why is he swinging at that?"
And your reaction to other's peoples comments can be the same whether you have a newborn or a baseball player. A polite thank you. An eye roll behind their back. A look that says bugger off.
There you have it. The 5 ways that having a baseball player is like having a newborn. Did I miss anything? Do you think it's the same with other sports?
Baseball  image courtesy of Naypong / FreeDigitalPhotos.net. Image text from experiencedbadmom.com.