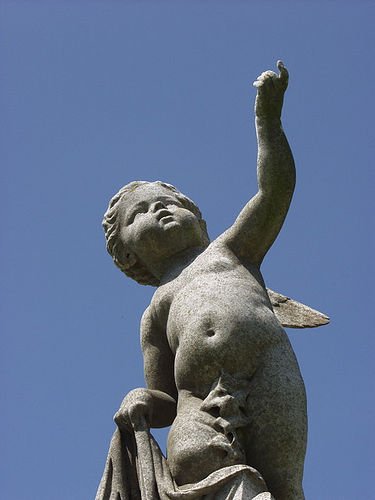 photo source
Last fall we were blessed to move into a new (bigger!) house. Our old house is a couple miles away and we pass by it every now and then.
The other night in the car was one such occasion in which we passed by our old home.
My son spotted a statue on the front stoop. "Ohhhhhhhhhhhhhhhh!!!" he exclaimed loudly. He turned to his sister and cried, "Sydney! There's a statue and I saw its BUTT!"
I glanced over and saw a little cherub statue. Not my style, but I guess it's not my house anymore now is it?!
Sydney, 5, giggled. I swear devil horns started growing out of her head.
"Will," she said in a low voice.
"Hee hee hee," she giggled.
"Was it a BOY?"
Oh, gr-e-a-t!