This past weekend my ten year old played in the final championship baseball tournament of the season. It was pretty intense. The venue was about 30 minutes away and there were multiple games, multiple days, multiple fields, and multiple factors like rain delays and a little sister who DID. NOT. WANT. TO. BE. THERE.
Nevertheless, we had a good game Saturday morning. My son went three for three at bat, and knocked in two RBIs. Then we had a fun time at McDonald's for lunch, where I snapped the following picture: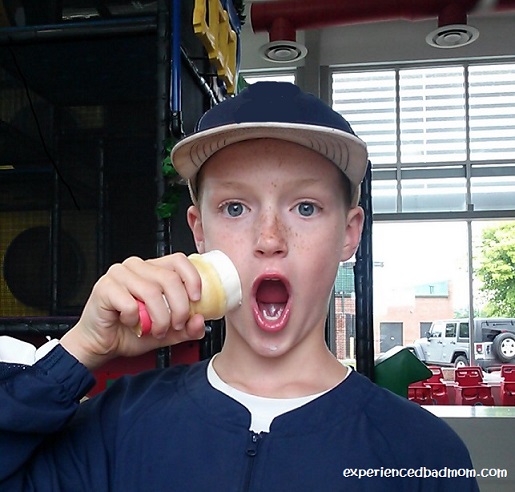 Within an hour of that picture being taken, though, everything changed.
I had dropped my son off for warm-ups before the next game. I was taking his little sister back to school shopping during that time. But I got a call that my son had been hit with a ball in his eyeball. He was fine, but could I come?
Duh. Of course.
He seemed okay, but his lovely blue eye was now green from blood. A quick call to the nurse determined a bloody eye was serious enough to warrant a trip to the ER.
So off we went. Here is the patient: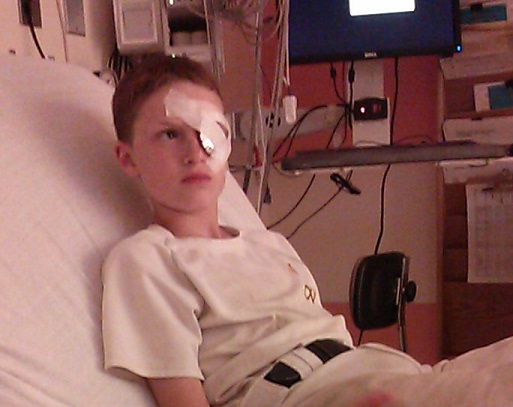 The official diagnosis? Hyphema or bleeding eye. His vision is fine and he is slowly healing, but you might be surprised at how seriously they take some blood in the eye.
He's on bed rest and must keep his head elevated.  He gets drops for inflammation six times a day and drops to relax his pupil three times a day. He has to wear a metal patch to protect his eye from re-injury. We've been to the ER twice, the eye doctor once, and have at least two more visits to the eye doctor.
I'm so glad he's safe and chipper through this all. Thank you, Lord, for watching over my son!
By the way, he pointed out that his favorite baseball player, Max Scherzer, has two different colored eyes so that makes everything okay. (And as the days go by, the blood is leaving his eye and its returning to its blue color)
If anyone knows Max Scherzer, can you do me a solid and get an autograph for my son?! If you don't know him, perhaps you can tweet him our humble autograph request: @Max_Scherzer.
Ah, the life of a sports parent. It's stressful, people!
Do you have any harrowing sports parent stories to share?